A Successful Entrepreneur should know how to look back from where he/she started. A selfless successful individual who knows how to share to everyone who is willing to follow his/her steps.
And this is what you call marketing strategies.It is a business's overall game plan in reaching people and turning them into happy customers. They are the important ingredients to make your business successful.
In the Philippines, What marketing strategies do business people use to their successful business? I found this great article from Entrepreneur Philippines. This article was written by Rae Marrie de Mesa. And I care to share it with you.
A successful entrepreneur shares his marketing strategies
A lot of do's and don'ts in marketing have already mushroomed and have been claimed to be effective. Butch Salvador, a multi-business entrepreneur and consultant, shares some of his personal techniques to attain business success.
<>"If there's one business everyone must know—it's the business of marketing," multi-business investor and consultant Butch Salvador said in a Small and Medium Enterprise (SME) Roving Academy seminar recently held in Makati City.
Salvador tackled costing and pricing, and his personal marketing techniques in the roughly four-hour seminar. Not much a fan of technicalities and long formulas, Salvador shared what he thinks are the "direct points" to effective marketing.
Although he truthfully admits that he started from scratch for most of his businesses, Salvador acknowledged the importance of having a business plan, no matter how long or short it is. He advised the attendees not to rush and told them to focus and be a master of their business, before venturing to start another.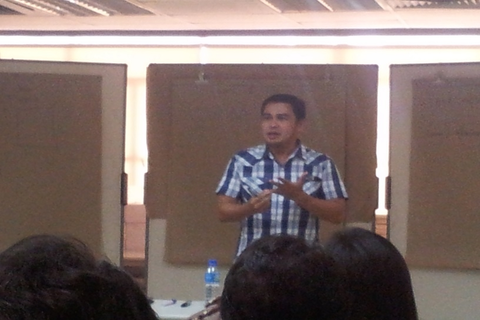 Building relationships
Another tip from him is to build relationships. "Walang taong yumaman ng walang network (No one accumulates wealth without building a reliable network)," he said. Salvador says that even the first telephone conversation with a client is already considered marketing—how you talk to a client will already make or break a deal.
He shared experiences on how being nice entailed a lot of wonderful things for him and his business. He revealed that he had many customers who, soon enough became his good friends. Despite the friendship, he always makes sure the quality of his business' products and services is not compromised.  
"Be professional. As friends, hindi ka mapapahiya sa services[ko]! Dapat ganu'n(I make sure I would always be proud of my business)," he told the attendees of the seminar. Moreover, "a crew with smiles and good service is a good form of marketing," he added.
Hiring and training the best
One of the keys to Salvador's numerous business successes is that he hires and trains people to handle things for him."Hire the best people. If not the best people, hire people with real hearts," he explained. 
He shared the story of how he appointed his brother as manager of his first business, Car Magic, and agreed on a 50/50 share in profit. "I lost half, but I had something—time. Time to start another business," Salvador said. He did this for most of his businesses—he hires and trains a trusted personnel to manage a business so he could start a new one.
He also admitted he is learning a lot from his people. Interestingly, he doesn't fire employees but rather, he promotes. "Gumawa ng kalokohan? I-promote mo! (I promote even employees who err.) That person will learn from that mistake, [then not] do it again," he believes that this cycle will go on and on, until that person really improves.
Unique factors
Finding out and highlighting what is unique about the business works, too. Salvador pointed out that a business' logo must speak for itself, and must already give an idea on what the business is offering. "Logo pa lang, dapat nangungusap na (Even the logo should already convey a message)," he explained.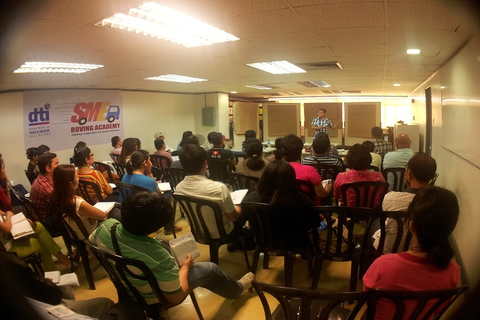 While there is a conventional definition of what "word of mouth" is, for Salvador, it is hunting down where your potential clients are. He discussed how the Internet is a good marketing platform. Salvador told the attendees to make use of it in all possible ways, and to do "combination marketing" as digital and print advertising should go hand-in-hand.
Mentoring and coaching 
Salvador is the owner of Car Magic, the first and currently, the only business offering home service fixing and repainting of car dents, bumps, and scratches, all in a span of a day. At present, he is already into several food, advertising and marketing, consulting, cars, and real estate businesses. 
Given the many business fields he is already in, he has a number of people working for him—those who have already mastered what he taught them. But he admits that he has a business secret that he only tells to those who he sees to have a fire for business, and to those with a genuine heart.